Used for leisure, back-up power or for the job site, the EU22i Generator really packs a punch! So whether you're going camping, you lose power at home, or need it on the work site, the EU22i is packed with features so you'll never be left in the dark!
Powerful engine
2200W maximum output
Convenience
Compact and a light 21kg weight
Inverter technology
Better than commercial quality electricity
Fuel efficient
Built in eco-throttle to adjust engine speed to meet load demand
Key features
Never get left in the dark
The world's best-selling leisure generator comes with everything you've asked for and more! Delivering high-quality, clean power to go via its advanced 4-Stroke GXR120 engine, the portable EU22i is perfect for a whole range of tasks to help you get the job done. In fact, you might just wonder how you ever did without one. Used for leisure, back-up power and for the job site, it really packs a punch with its GXR120 engine that delivers 2200W maximum output.
Aussie campers asked for more power, so Honda gave the people what they wanted. This unit has a maximum output of 2200W/240 volt AC and 8.3 amp DC to run appliances and charge automotive batteries simultaneously. It requires low fuel consumption, so it's lighter on your wallet. Convenience is front of mind with its portable weight of 21kg and size that makes for easy travel. Not to mention, its whisper-quiet operation (LwA 91dB(A)†) to avoid waking campers. Turn your camping into "glamping" with all you can do with Honda's EU22i Generator.
Quiet Operation
Power for Work
The EU22i starts first time, every time with Honda's reliable one pull easy start system. Your back will thank you! It has an increased diameter of oil filler for improved draining & catching of oil so there's less mess when filling. It also has an improved recoil starter handle with a new metal guard. You'll also enjoy its low fuel consumption for cost efficiency. It delivers better than commercial quality electricity via its microcomputer controlled sinewave inverter technology that's ideal for sensitive electronic equipment. So pop it on the ute to power your tools on the worksite and say hello to efficiency as it runs consistently on a full fuel tank for an 8* hour day.
Inverter Technology
Power for Home
The EU22i is a reliable source of electricity when the power goes out. It is environmentally friendly with low emissions and low fuel consumption for cost efficiency. The EU22i features a low oil alert system that protects the engine by shutting down if a low oil pressure is reached. With up to 8* operating hours on a full fuel tank, the EU22i will never leave you in the dark.
Contractor Quality
Honda Generators
Whether portable power is required for farming, industrial work, mining, camping, emergency services or domestic use, look no further than Honda's extensive range of quality portable generators. Designed and built with user convenience and environmental impact in mind, Honda generators feature advanced four-stroke engines for strong performance and fewer emissions. Honda's four-stroke engines eliminate the need to mix fuel and oil, which saves time and money. They also provide superior fuel efficiency and emit significantly less carbon and noise than most of their two-stroke competitors.
Pricing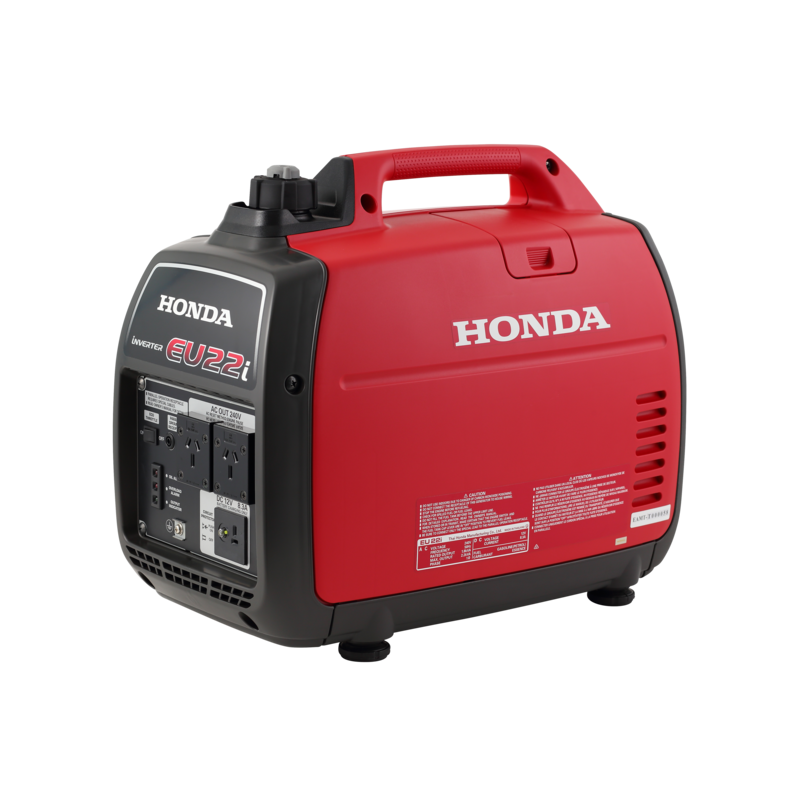 EU22
RRP $2,099
2200 Max output
Inverter technology
Fuel tap to allow unit to run dry for storage
Lightweight 21kg
Built in Eco Throttle for greater fuel efficiency
SPECIFICATIONS
EU22
Dimensions, Weights And Capacities
Capacity
Fuel Gauge
No
Fuel Tank Capacity (l)
3.6
Dimensions
Height (mm)
425
Length (mm)
509
Width (mm)
290
Noise
Operating Noise Level
LwA 89dB(A)
Run Time
Continuous Operating Hours
3
Weights
Dry Weight (kg)
21.1
Features
Wheels
4 Wheel Dolly Kit
No
Convenience
Multi Function Display
No
Power
DC Output (Generator/Charger)
8.3A
Maximum AC Output
2200VA
Parallel Operation Connection Cable
Optional
Parallel Operation Connection Ports
Yes
Rated AC Output
1800VA
Rated Frequency (hz)
50
Rated Voltage
240
Powertrain
Engine
Generator Type
Inverter
Oil Alert
Yes
Start Type
Recoil
Air Cleaner
Semi dry type
Auto Choke
No
Auto Throttle
Eco-Throttle
Displacement
121cc
Engine
GXR120
Fuel Consumption
1.22L/h
Fuel Type
Unleaded 91
Safety
Safety
AC Circuit Protection
Yes
DC Circuit Breaker
Yes
Warranty
Warranty
1 year
Domestic Warranty
4 years*
Serving Shellharbour - Wollongong Area For Over 60 Years
We are very proud of our association with this district, and most of our customers are repeat customers who keep coming back for the service and products that they expect.