A battery brushcutter to the power of Honda
Ideal for the serious contractor, Honda's HHT36 Battery Brushcutter is perfect for slashing through large areas of tough scrub with the performance that professionals need. Its battery powered brushless motor gets through the job with ease, offering sustained high power and efficiency.
Power to perform
Innovative battery technology for uncompromised performance
Ergonomic design
Bike handle for comfort and reduced fatigue
Contractor quality
Built tough for tough conditions
Premium efficiency
Powerful 36V brushless electric motor directly drives the cutting head
Key features
A battery brushcutter that's built tough for tough conditions
By developing a new generation of high-capacity batteries and a powerful, 36-volt electric motor, Honda's engineers ensured that the HHT36 Battery Brushcutter offers superior cutting performance just like the Honda standard! Honda's new generation Battery Brushcutter boasts innovative battery technology and uncompromised cutting performance for the toughest applications. Get premium performance without the headache! The HHT36 Brushcutter has a low vibration level of <2.5m/s2 and is super quiet so is ideal for early starts and late finishes.
Powered by Honda's Universal Battery System, you can use either of the three available batteries: 4Ah, 6Ah and 9Ah across the HHT36 Brushcutter and Honda's entire Battery product range. Ensuring the longest possible run time without compromising power, the Thermo-Smart technology continuously monitors the voltage and thermal performance of every cell. Long day on the job? Simply swap or recharge your battery in moments. That means getting through the day without forced breaks. What's better is that when using the 9Ah battery, you can operate the HHT36 Brushcutter in all weather conditions.
Battery Powered
Safe and Easy Operation
Honda's HHT36 Battery Brushcutter keeps you comfortable and safe. Featuring an included harness that can be adjusted to fit you perfectly, this provides optimum balance when supporting the Brushcutter during operation. Widely spread handlebars offer comfortable control even when you're tackling tricky terrain and give precise changes of direction with minimal effort. A padded guard sits between your hip and the Brushcutter to ensure you feel fresh even after a long day's work. Safety is paramount- the blade releases automatically if it jams, preventing the motor from stalling.
Low Noise and Vibration
Heavy duty 3-tooth Blade
To help tackle tough undergrowth, the HHT36 Battery Brushcutter comes with a three-tooth blade head. The blade is designed to make light work of heavy-duty garden management. So when you need to slash through stubborn scrub, do it with ease using the 3 tooth blade head on your HHT36 Brushcutter.
Contractor Quality
Automatic Line Head
The line head features a 'tap & go' automatic feed of the nylon line, ensuring that every cut is as precise and powerful as the other. So when you're cutting large areas of lightweight scrub, you'll always get that perfect Honda finish using the HHT36 Battery Brushcutter.
Pricing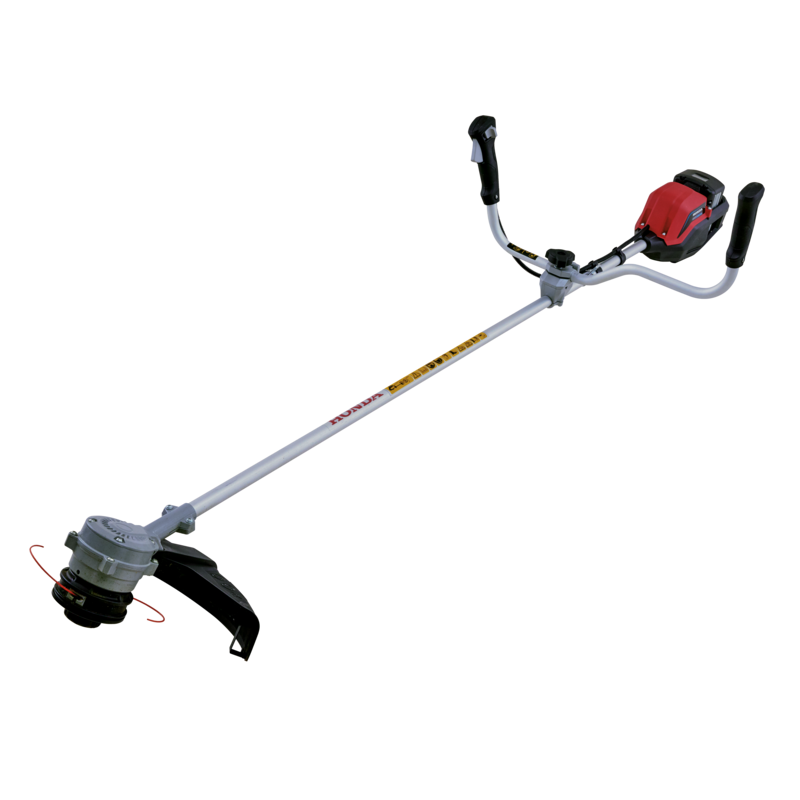 HHT36
RRP $849*
Bike Handle
93 dB(A)
36v Battery power with brushless motor
6.5kg (excl Battery)
2 year domestic warranty
Skin only, battery & charger sold separately
SPECIFICATIONS
HHT36
Dimensions, Weights And Capacities
Capacity
Fuel Tank Capacity (l)
n/a
Dimensions
Height (mm)
290
Length (mm)
1,970
Width (mm)
660
Noise
Operating Noise Level
93
Run Time
Bump Head / Blade 4Ah: 33 / 60 mins 6Ah: 50 / 90 mins 9Ah: 75 / 135mins
Weights
Dry Weight (kg)
6.5 (excl Battery)
Features
Cutting
3 Teeth
Standard Cutting Head
Tap & Go Head
Ergonomics
Bike
Safety
Guards
2
Harness
Full Operator Harness
Powertrain
Engine
n/a
Net Power
n/a
Oil Capacity (l)
n/a
Bore & Stroke (mm)
n/a
Displacement
36V
Engine
Brushless DC
Fuel Type
Battery
Warranty
Warranty
1 year
Domestic Warranty
2 years
Serving Shellharbour - Wollongong Area For Over 60 Years
We are very proud of our association with this district, and most of our customers are repeat customers who keep coming back for the service and products that they expect.