Transfer water fast
Honda's powerful WB20XT is a portable 2″ volume pump with a 32m head that delivers a maximum capacity of 620 litres per minute. It is the pump for all your needs. Drawing on decades of engineering advancements, the Honda GX120 engine that powers the WB20 ensures easy starting, easy usage, outstanding fuel economy, low emissions and long-lasting durability.
Powerful output
Honda GX120 engine
Cast iron volute
Reduces case wear
Oil alert system
Shuts off engine when low oil is detected
Heavy duty full frame
Added Protection
Key Features
Portable, powerful performance
A premium Volume Water Pump, the WB20XT has been designed with the end user in mind, for whatever application you want to use it in.
With oil alert and rubber mounts, the full frame type provides stability and delivers smooth running with less vibration. The result is a reliable, long-lasting pump that will perform day in, day out.
Performance and Usability
With capacity to deliver 620 litres per minute, this 2″ Volume Water Pump has a maximum suction head of 7.5m and a maximum total head of 32m.
Like so many other Honda products, the WB20 starts first time, every time with Honda's famous one pull easy start system.
It runs on unleaded fuel, so you'll never have to mix oil and petrol again. The result? An environmentally-friendly pump with low emissions & fuel consumption.
Powerful Output
Commercial Grade Engine
The durable Honda GX series commercial grade engine is easy starting and provides ample power for the toughest conditions.
Convenient
Legendary Pumps
Built to Last
Oil Alert System
Pricing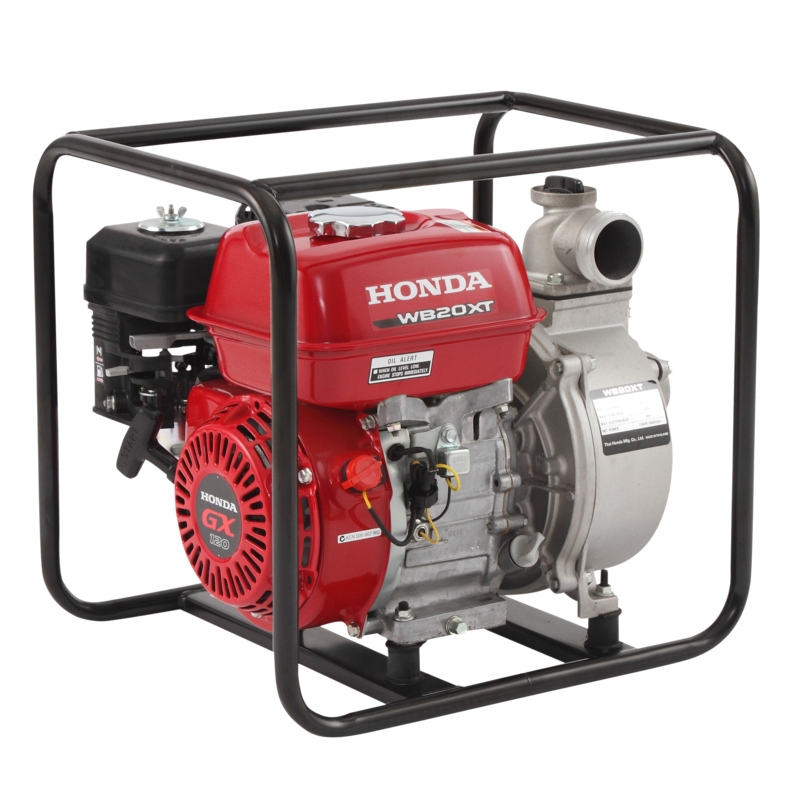 WB20
RRP $699
2″ Volume pump
Maximum total head 32m
Maximum suction head 7.5m
Capacity 620L/min
Powered by GX120
SPECIFICATIONS
WB20
Dimensions, Weights And Capacities
Capacity
Fuel Tank Capacity (l)
2
Dimensions
Discharge Port Diameter (mm)
50
Height (mm)
425
Length (mm)
485
Suction Port Diameter (mm)
50
Width (mm)
365
Weights
Dry Weight (kg)
21
Features
Hose
Yes
Mounting
Roll Frame
Performance
Performance
32
Pumping Capacity
620L/min
Suction Head (m)
7.5
Powertrain
Engine
Oil Alert
Yes
Pump Type
Centrifugal Volume
Self Priming
Yes
Displacement
122cc
Engine
GX120
Fuel Type
Unleaded 91
Warranty
Warranty
1 year
Domestic Warranty
4 years*
Serving Shellharbour - Wollongong Area For Over 60 Years
We are very proud of our association with this district, and most of our customers are repeat customers who keep coming back for the service and products that they expect.