Ready to handle the toughest jobs
This superbly balanced, full-sized Tiller is ready to handle the toughest jobs you can throw at it! Powered by Honda's Gutsy GX240 4-Stroke engine, this beast gets the job done without a sweat, and so will you with its 3 speed gears and 1 reverse. Packed with features, get the perfect Honda finish every time with the FRC800 Tiller.
No fuel mixing
Powerful GX240 4-stroke engine
Added user safety
Heavy duty rear debris shield and reverse lock-out
Convenient loop handle
Improved user operation
Environmentally friendly
Lower emissions, less noise and low fuel consumption
Key Features
More power for bigger jobs
Got some tough, heavy duty work to be done around the farm, home or worksite? Then the answer is clear; you need a Honda FRC800 Tiller. Superbly balanced and designed with the end user in mind, the FRC800 is perfect for big, tough jobs that only the best tillers can handle. It's an investment in your career, your business and your back, and one that you won't regret.
Honda leads the world with revolutionary mini 4-stroke engines that deliver more power and use less oil.
With their auto-decompression, electronic ignition and anti-flood primer system, Honda Tillers start first time, every time, year after year.Superior engineering means Honda Tillers produce less noise and smoke and with their ultra-compact, lightweight design, Honda Tillers are easier to handle and will keep you working longer with less fatigue.
Easy to Use
Low Maintenance
The FRC800 Tiller runs on unleaded fuel, so you'll never get your hands dirty having to mix oil and petrol again just to get the thing going! This is thanks to its 4-Stroke advantage, plus you'll also get premium power and torque so it's a win, win! Honda leads the world with revolutionary 4-Stroke engines that deliver more power and use less oil than 2-stroke alternatives.
Heavy duty rear debris shield
A full tine enclosure and full width rear shield provides operator protection and helps create a smooth, well tilled appearance to your garden.
Pricing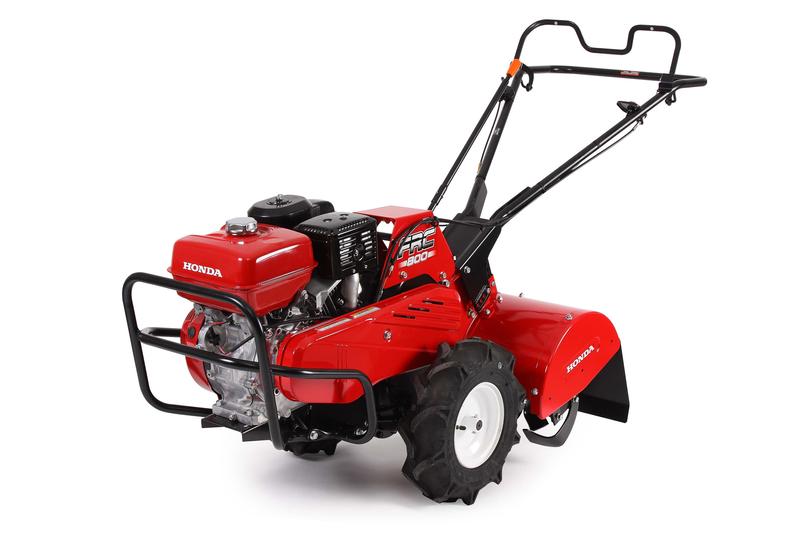 FRC800
RRP $3,869*
Tilling width 508mm
Tilling depth 100mm
GX240 Engine
3 forward gears & 1 reverse
4 Year Warranty
SPECIFICATIONS
FRC800
Dimensions, Weights And Capacities
Dimensions
Height (mm)
1,245
Length (mm)
1,660
Width (mm)
610
Weights
Dry Weight (kg)
120
Features
Tilling
500
Ergonomics
Handle Bars
Multi step height adjustable
Powertrain
Engine
Deadman
Gears
3 FWD / 1 REV
Displacement
270cc
Engine
GX240
Fuel Type
Unleaded 91
Warranty
Warranty
1 year
Domestic Warranty
4 years*
Serving Shellharbour - Wollongong Area For Over 60 Years
We are very proud of our association with this district, and most of our customers are repeat customers who keep coming back for the service and products that they expect.